Faculty Of Natural Sciences
Department of Chemistry
Vision
Our vision is to promote a culture of research in the department and empower students to develop their skills so that they become good human resource in the field.
Mission
The mission of the Department of Chemistry is to create a conducive environment of learning for its undergraduate students and to achieve excellence in the area of research and education.
For further information please contact
DEPARTMENT OF CHEMISTRY
University of Chakwal, Punjab 48800 Pakistan. Email:
mail.uoc.edu.pk
Objectives
The Department of Chemistry aims to accomplish these featured objectives through this program:
To build an attitude to endeavor for higher education at the international level
To provide current knowledge to graduates for the implementation of learnings effectively and efficiently
To provide a broad foundation in chemistry that stresses scientific reasoning and analytical problem solving with a natural and physical perspective
To provide students with the skills required to succeed in graduate school, the chemical industry or professional school
To expose the students to a breadth of experimental techniques using modern instrumentation
Developing the individual's ability to do independent research
Preparing students for more advanced study in chemistry
To identify the problems and their measurable solution
Providing advanced training to professional chemists and those employed in technical and business areas in which chemistry is necessary for efficient performance
Demonstrate the ability to carry out independent research
Acquire the practical knowledge of the type of research conducted in industry and of the constraints (both practical and philosophical) under which such research is conducted
Faculties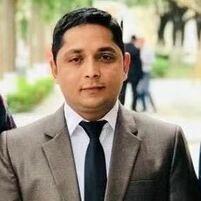 Dr. Saeed Ahmed
Assistant Professor / HOD
Postdoctorate: (2019-2021) The Hong Kong University of Science and Technology, Hong Kong.
Ph.D: (2016-2019) Beijing University of Chemical Technology, P. R. China.
M. Phil.: (2013-2016) University of Engineering and Technology, Lahore.
Dr. Saeed Ahmed is working as an Assistant Professor of Chemistry. Before joining UOC, he served as an Assistant Professor of Chemistry at The University of Lahore. He has published 30 research articles in a well-reputed journal with a cumulative impact factor of >160 and one book chapter. His area of interest is Nanotechnology-based solutions for environmental applications, e.g. Adsorption, Photocatalysis, Reactor Design for water treatment, and Health Risk Assessment of Pollutants.